Twenties make-up is weird! I watched a lot of YT vids (imo, the
Pixiwoo
vid is the best, you get a lot of info behind the look.) Basically they did everything totally different to how we would today - straight brows, all the darkness on the inner corners of their eyes as opposed to the outer, 'spots' of blush and those Clara Bow lips:
Despite being a bit 'weird', I think it looks pretty awesome and you can see the period actually has quite a lot of influence on style today:
Christian Dior - I looove this look. Dior definitely has my favourite runway makeup, it's always aaaaaaahmazing.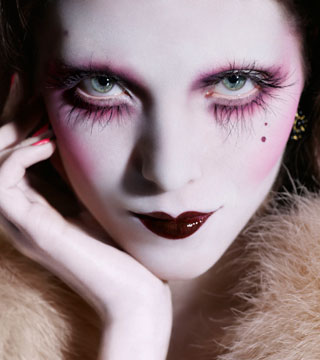 The amazing Alex Box often references the 20's in her work
And of course, our Lady! This site - makeupforlife.net - claims the lips to be Geisha inspired. Only Gaga knows but I think it's interesting that when on a geisha, these lips probably are supposed to give an illusion of youth and innocence whereas on a gal in the 20's, they would signify liberation!
Wanna see my take?
Please, please excuse my brows. I'm really having trouble covering them! Also, I think my brows should have been more straight. I mixed up the colours to make it a little more modern. They wouldn't really have had purple cosmetics back in the day - shadows were mostly grey and sometimes paler blues and greens, with blushes and lippies variations of red and pink. I wasn't sure what to go for for the blush, so I went for rusty! As for my hair, I did it very quickly but I took a tip from the ever-fucking-amazing
ilovegerado
and pincurled it up to get a bobbed look.
Eyes:
Sleek Black
MUA Shade 3 (sliver/grey)
Darkest matte purple from Wet n Wild Lust palette
Lips:
Evil Shades lipstick in Corruption (Wasn't sure about this lippy at first, LOVE IT now!)
Cheeks:
A mix of three rusty/reddish colours from the 120 palette
Well, I think that's my Retro Series done for a while, kinda bored on it, but there'll be a post here and there, I'm sure!
xxx