Here's a couple of pics for those of you who don't know what victory rolls are:
Old school, as modelled by Rita Hayworth...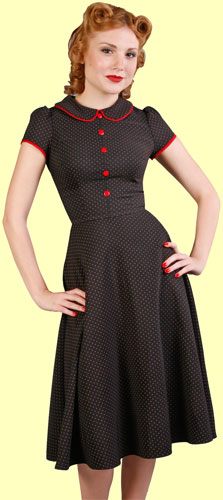 ...and new school, as modelled by... er, this lovely model on
Daddy O's
. (Don't click on it, it'll make you very sad indeed.) This version is more of what I'm going for.
Nice, right? Basically, the style is two upswept rolls on either side of your head. I cannot do them. Well, I sort of can. I can't physically roll my hair up and under into a long roll, like Rita up there. Its too long and thin, plus I'm crap at hair. But I found this
awesome 'cheaters' video for long hair
on Youtube and I've made a couple attempts so far. It claims to be quick and easy...
...and it was, sort of! I managed to do one side and have it look ok, but I think perhaps I parted my hair too far to one side, and I couldn't get a nice roll with the thinner side, and it was Work Teim.
Onto the second attempt:
Do you like my little skellyton necklace? He's got a top hat and a guitar to keep him company :D
With more practice I think I could get these looking really nice!I think the rolls should have been a little further forward on my head, but I'm pleased I managed to get them more even. If anyone has any tips, knows what kind of styling product I should use to keep my hair smoothy smooth and not crunchy while I'm styling this kind of thing, or has ideas what to do with the rest of my bloody hair when I have the rolls in, I'd be more than grateful!
xxx